Adrian Marks - Writer of Stage & Screenplays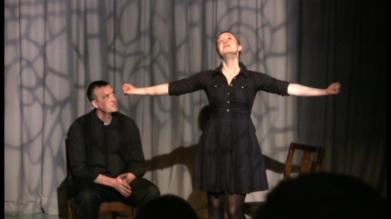 Introduction
Welcome! Thanks for coming by! This is the website of Adrian Marks, the pen-name of a successful writer of stage and screen.
Adrian has written plays that have been performed throughout the UK, and nominated finalist of the UK Ovation Theatre Awards in 2010, 2011 & 2012 and UK "Pint Sized Plays" finalist in 2012 & 2014. He has written screenplays that have attracted funding and production from the UK Film Council and won the USA's "Golden Brad" Movie Script Contest.
Adrian's work
Adrian's goal and passion has been to work hard to entertain, and sometimes, educate through writing for perfomance. Adrian offers a script reading and feedback service, writing workshops, drama workshops and is available for commissions. He aims to keep you up to date with current work and and hopes to see you soon at a show –just take a look at the latest news page!
If you want to get in touch just drop Adrian a line.
Recent Awards
"Waiting For Gandalf " -- Buxton Festival Fringe Nomination for New Writing 2014
"Love of the Loveless" -- UK "Pint Sized Plays" Competition Final Shortlist 2014
"A Question of Faith." -- UK Ovation Theatre Awards Finalist 2012
"And The Rock Cried Out 'No Hiding Place'." -- UK "Pint Sized Plays" Competition Shortlist 2012
"And The Rock Cried Out 'No Hiding Place'." -- UK Ovation Theatre Awards Finalist 2011 - Judges Honourable Mention
"Escape." -- UK Ovation Theatre Awards Finalist 2010
"Escape." -- Short Cuts Finalist: Live Theatre, Tyneside